About
Lodging at the Gaffer Inn (formerly named The Inn at the Gaffer Grille), opened in 2010, offers charming, boutique accommodations featuring the city's history of glass creation and design. The Inn is located on historical Market Street in downtown Corning, New York. Corning's Gaffer District is a unique area with many shops, the widely known Corning Museum of Glass and The Rockwell Museum, along with many other activities. Located above Burgers and Beer of Corning, you are only a few steps away from a relaxing meal or social gathering.
The Inn rooms are all located upstairs (no elevator access). However, each room includes many features and amenities to maximize relaxation and comfort during your stay. In each room you will find new wall to wall carpet throughout, pillow-top mattress, plush leather couch in front of a fireplace, desk, smart TV's, wet bar and small dining area.
Attractions: Get To Know Corning NY
Be sure to check out some outstanding entertainment (craft beer brewed on site & great food too) and attractions in the Corning New York area. Below you will find a snapshot of things to do.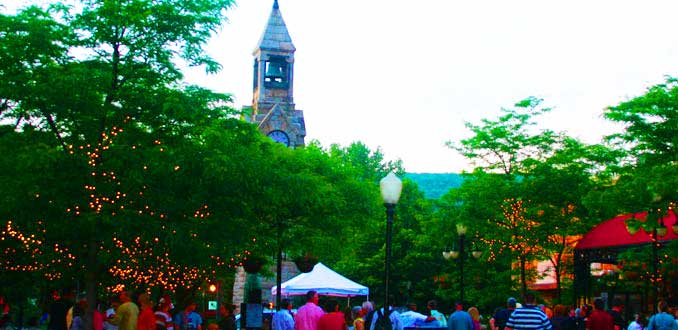 Visit a Museum!
The Corning Museum of Glass. Open 7 days a week 9:00am until 5:00pm. Kids and teens free admission. 800-732-6845
The Rockwell Museum. Located at 111 Cedar Street, Corning. 607-937-5386
The National Soaring Museum. Located on Harris Hill in Elmira, NY. 607-734-3128. Open 7 days per week 10:00am until 5:00pm.
Finger Lakes Boating Museum 8231 Pleasant Valley Rd., Hammondsport, NY 607-569-2222
The Glenn Curtiss Museum Hammondsport, NY 607-569-2160
 Finger Lakes Museum Branchport, NY 315-595-2200
Make Your Own Glass!
The Studio at the Corning Museum of Glass. 800-732-6845

Visit a Winery, a Distillery, or Brewery!
Wineries of the Finger Lakes. Fifty plus great wineries with scenic views.
The Finger Lakes Distillery in Burdett, NY Located on the East side of Seneca Lake. 607-546-5510.
The Market Street Brewing Company. Located at 63 West Market Street (just across the street) 607-936-2337
Iron Flamingo Brewery 196 Baker Street, Corning, NY 6079364766
Horseheads Brewing Company. A micro brewery located in Horseheads, NY. 607-739-8468.
Keuka Wine Trail
Seneca Wine Trail
Fingerlakes Winery Tours
Finger Lakes Beer Trail
Get a Limo!
limos.com | silklimousine.com
Visit a Park or take a Hike!
Watkins Glen State Park - Watkins Glen, NY. Take a hike through the gorge.
Harris Hill Amusement Park - Elmira, NY 607-732-1210
Finger Lakes Trail
Go to a Spa!
A Touch of Tranquility Massage Therapy and Wellness Spa - 83 W Pulteney St., Corning, NY 607-769-0808
Interludes - 3 East Pultney Street Corning 607-937-8129
AgeLess Integrative Medical Spa (at Arnot Mall - 330 Chambers Rd., Horseheads, NY) 607-846-3962
Watch a race!
Watkins Glen International 888-461-RACE
Take a Sail or Cruise!
Seneca Sailing Adventures. Take a sailing cruise on the Lee Sea Anne I, a luxurious World Class Cutter on Seneca Lake. For reservations: 607-742-5100 (maximum of 6 guests).
Captain Bill's Seneca Lake Cruises. Watkins Glen, NY 607-535-4541.
Schooner Excursions Inc. Take a sail on Seneca Lake about Malabar VII "The True Love" 215 S. Madison St. Watkins Glen 877-724-5238, 607-535-5253
Enjoy the Arts!
171 Cedar Arts Center. Located in Corning, NY. 607-936-4647
Palace Theatre - 17 Market Street, Corning, NY 607-654-7393
The Clemens Center. A performing arts center for live entertainment including Broadway shows, dance productions, and concerts located in Elmira, NY 607-734-8191 or 800-724-0159.
The Hangar Theatre - The Center for the Arts located in Ithaca, NY provides diverse theater experiences. 607-273-8588.
Finger Lakes Chamber Ensemble
For information regarding concerts: 607-272-4839
Attend a sporting event!
The Elmira Jackals ice hockey - At the First Arena in Elmira, NY 607-734-PUCK for tickets.
The Wineglass Marathon
The first weekend in October. Be a spectator, run the full marathon (26.2 miles) from Bath to Corning, run the half marathon, or just the 5K...it's a great weekend!
Go Bowling!
Crystal Lanes
Corning, NY 607-962-5391
Go Golfing!
Indian Hills Golf Club
Painted Post, NY 607-523-7315
Willow Creek Golf Club
Big Flats, NY 607-562-8898
Mark Twain Golf Course
Elmira, NY 607-737-2275
Soaring Eagles Golf Course
Horseheads, NY 607-739-0551
Watkins Glen Golf Course
Watkins Glen, NY 607-535-2340
Golfing Practice/Driving Ranges:
Park Ave Sports Center
Corning, NY 607-936-4820
Willow Creek Golf Club
Big Flats, NY 607-562-8898
Harris Hill Miniature Golf 609-522-4200
Elmira, NY 607-732-1210
Go shopping!
All along Market Street
The Windmill Farm and Craft Market in Penn Yan, NY
MacKenzie-Childs in Aurora, NY 315-364-7123
Arnot Mall in Horseheads NY 607-739-8704
Take a scenic airplane ride!
Scenic Air Tour. Take a look at the area from a different view! Costa's Flying Service located in Painted Post, NY 607-962-0053
Finger Lakes Seaplanes Located at Harbor Lights Marina - 13760 W. Lake Rd., Hammondsport, NY 14840, Phone: 607-868-4848
Experience soaring first hand in a sailplane at Harris Hill Soaring Center 607-734-0641 or 607-734-2752.
For Events in Corning Check Out:
Corning Gaffer District Events Or call 607-937-6292.
Visitor Services at the Corning Chamber of Commerce or the Steuben County Conference & Visitors Bureau (SCCVB) - 1 West Market Street Corning, NY. 607-962-8997 or (toll free 866-463 6264)
Ideas:
2300 Degrees
-at the Corning Museum of Glass on select Thursdays throughout the year
Corning Farmers Market
-Thursdays from June through October in Riverfront Centennial Park
Race Fever
-street party featuring Nextel Cup Racing in August on Bridge Street
Cabin Fever
-wine tasting event in February in the Gaffer District
Tree Lighting Ceremony
-End of November at Centerway Square
Parade of Lights
-End of November in Corning's Historic Gaffer District (Saturday directly following Thanksgiving)
Sparkle
-Early December on Market Street 5-9pm
Food and Drink on Market Street (walking distance less than a mile):
Aniello's - 68 East Market Street 607-962-2060
Atlas Brick Oven Pizzeria - 35 East Market Street 607-962-2626
The Cellar - 21 West Market Street 607-377-5552
Dippity Do Dah's Homemade Ice Cream - 58 East Market Street 607-542-9416
Donna's Restaurant - 48 East Market Street 607-937-9732
Maley's -92 East Market Street 607-936-2170
The Market Street Brewing Company & Restaurant - 63 West Market Street 607-936-2337
The Oaks - 96 West Market Street 607-936-6367
Old World Cafe & Ice Cream - 1 Baron Place (Centerway Square) 607-936-1953
Poppleton's Bakery and Cafe - 23 West Market Street, Suite 104 607-937-3311
The R&M Restaurant - 101 West Market Street 607-936-9679
Rico's Pizza & Subs - 92 West Market Street 607-962-2300
The Source - 88 West Market Street 607-936-1663
Three Birds Restaurant - 73 East Market Street 607-936-8862
Sorge's Italian Restaurant - 66 West Market Street 607-937-5422
Subway - 83 East Market Street 607-936-3272
The Thali of India - 28 East Market Street 607-936-1900
Tony R's Steak & Seafood - 6 East Market Street 607-937-9277
Wild Ginger Asian Fusion - 119 West Market Street 607-936-8888
Wegman's Food & Pharmacy - 24 South Bridge Street 607-937-8346
Coffee Shops
Soul Foul Cup - 81 West Market Street 607-936-9030
Market Street Coffee & Tea - 61 East Market Street 607-936-3351
Churches in Corning
All Saints Catholic Parish: 607-936-4689
St. Mary's Church, 155 State Street, Corning
St. Vincent de Paul Church, 222 Dodge Ave, Corning
Immaculate Heart of Mary, 115 East High Street, Painted Post
Christ Episcopal Church, 39 East 1st Street, Corning 607-937-5449
Faith Lutheran Church, 71 West 1st Street, Corning 607-962-4970
First Baptist Church-Corning, 110 East 1st Street, Corning 607-936-9514
First Presbyterian Church, 1 East 1st Street, Corning 607-937-5419
First United Methodist Church, 144 Cedar Street, Corning 607-962-4608
St. Mary's Orthodox Church, 242 Sunset Drive, Corning 607-962-5285
The Gaffer District Offers Fun For All.
Historical Market Street in the Gaffer District of Corning New York, is a unique place with many shops, the well known museums, along with many other activities.
Learn more at gafferdistrict.com
You will find activities for all ages.
Contacts

Lodging at the Gaffer Inn
60 West Market St.
Corning, NY, 14830

Phone 607.962.4649
Directions & Parking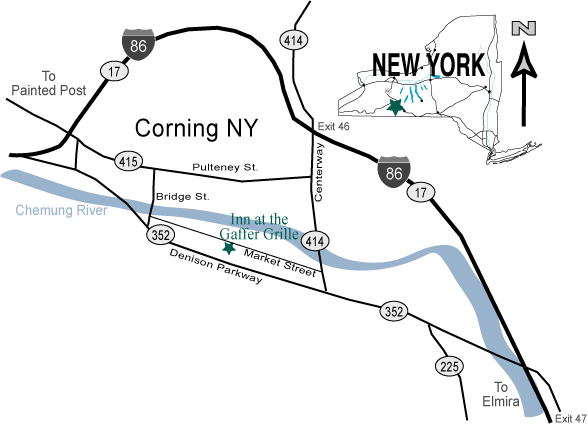 Lodging at the Gaffer Inn, 60 West Market Street, Corning NY 14830
Get Directions at Google Maps
GPS: 42.1437441,-77.0570489
Policies & Things to Know About Your Room
We generally take all reservations on-line but feel free to call us to confirm your booking.
Our room rates range from $149.00 to $229.00 per night based on two-person occupancy, the season, night of the week and local events. Rooms 2 and 3 have a sleeper sofa that can comfortably accommodate children. We do not serve breakfast. Located on Market Street is a wide range of restaurants available for every taste. Any food or drink charges at Burgers and Beer of Corning will be settled with the restaurant. We offer free wireless internet. Check in is at 3:00 P.M. Check out is 10:00 A.M. Please leave your key in the room upon departure. Please note our rooms are on the second floor, there is no elevator access, and are therefore not wheelchair accessible.
No Noise / No Parties
We are located on a busy street above a busy establishment and occasionally minimal noise may be heard in the rooms. However, we do take noise disturbances with the Inn very seriously. We want all of our guests to have a peaceful and enjoyable stay. We ask that guests respect the comfort of all of our patrons and maintain a reasonable noise level. If excessive noise results in the complaints/disruption of other guests, you will be asked to reduce the noise level. If you do not cooperate, then you will be asked to leave without refund and additional changes may be issued. Parties are nor permitted.
Cancellation Policy
Because we are a small Inn cancellations affect us greatly, so we request early notification if your reservations are to be changed in any way. Cancellation of a room must be made 72 hours prior to your arrival date. If reservations are cancelled after this period, the reservation will be charged. No Shows are also charged the reservation. Please note Wineglass Weekend payment must be made in full 30 days prior and is non-refundable.
Emergency number - If you have a problem with your room, you may contact the bartender at Burgers & Beer of Corning at 607-962-4649 and he/she will assist you. There is an answering service for after hours emergencies if the restaurant is closed.
Police: 607-962-0340 (or call 911)
Fire Department - 607-962-0551 (or call 911)
Check-in/Check-out - Check-in time is 3:00pm. Check-out time is 10:00am. See the bartender at Burgers & Beer of Corning (below the Inn) for your room key and receipt (the bartender arrives before the bar is open) . Please leave key on the desk in your room upon departure. PLEASE CALL IF CHECKING IN LATE (after 10pm). If checking-in late or early is required, other arrangements may be possible. If you need a late check out, it must be requested in advance and there will be a $25 fee added.
Parking: There is a parking lot behind the Inn and a parking garage across the street. Parking is free Monday through Friday from 5:00pm until 9:00am.Weekends and Holidays are free. There is no overnight parking on the streets.
Pets: There are no pets allowed. There is a $250.00 charge if pets are found on premises.
Pet Boarding Alternatives: (day care and over night care)
Corning Animal Hospital - 11863 East Corning Road 607-962-5905
Happy Tails Day Care & Pet Resort - 11929 East Corning Road 607-377-5757
Rio Vista Veterinary Hospital & Kennels - Main Street, Coppers Plains 607-962-0931
Smoking: This is a non-smoking establishment. There is not smoking allowed anywhere in the building. Alarm will sound. There is a $250.00 fine for smoking in the building.
**Damaged or missing items will be charged at full value.
Lost/Unreturned Keys - There is a $25 fee for lost keys.
Internet - Free wireless internet access is available.
PLEASE NOTE the whirlpool tubs are not functional at this time. We apologize for any inconvenience.
Heat - There is radiant floor heat as well as the gas fireplace. You may control the warmth of the room by using the thermostat on your wall, or by turning on the fireplace.
Air conditioning - There is a remote control in each room to turn on/off/adjust temperature on the air conditioning unit.
Also, please note that the Inn is located downtown in the city of Corning - expect to hear city-type noises at night (such music from a neighboring restaurant) or wee hours of the morning (such as the garbage truck emptying trash). We, unfortunately, have no control over these noises.
Movies - The Palace Theatre - Located at 17 West Market Street 607-936-3844.
Burgers & Beer of Corning located directly below the Inn)
Call: 607-962-4649
ROOM 1 - Double Queen Guestroom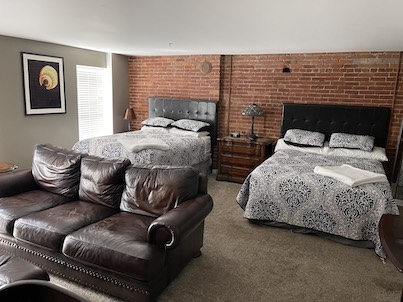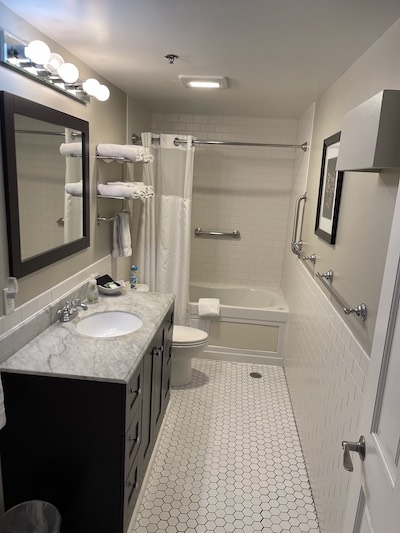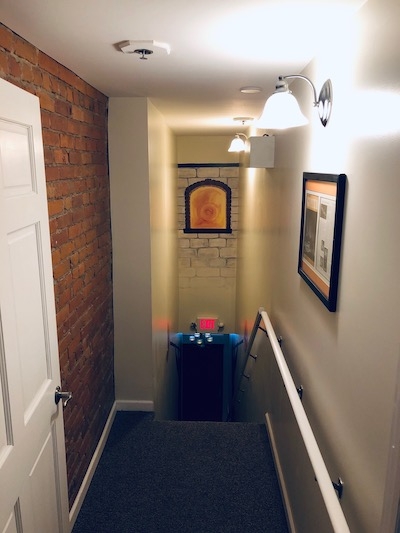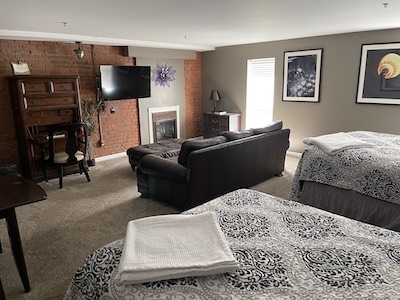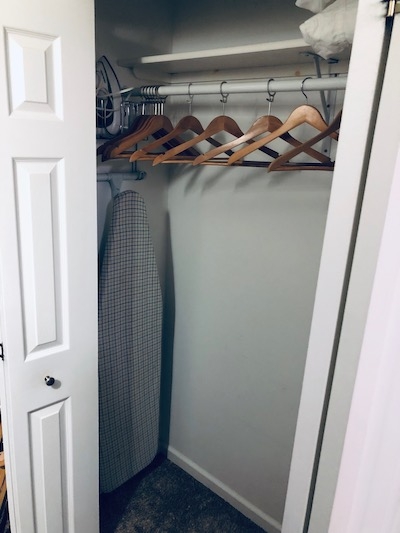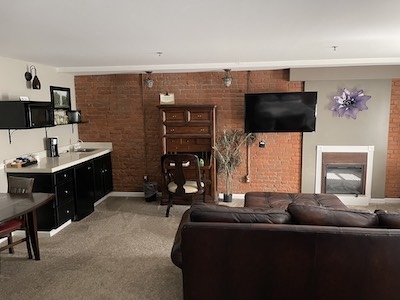 ROOM 2 - King Guestroom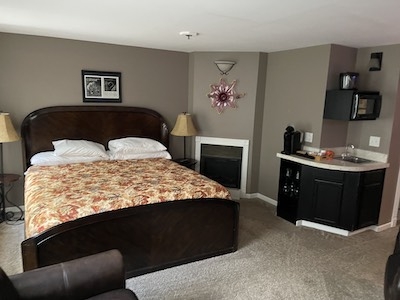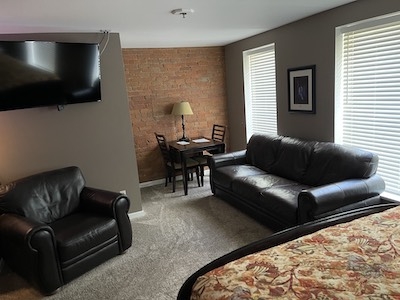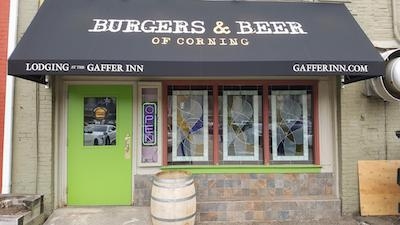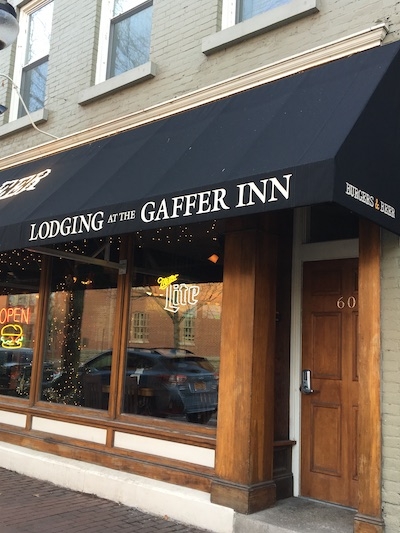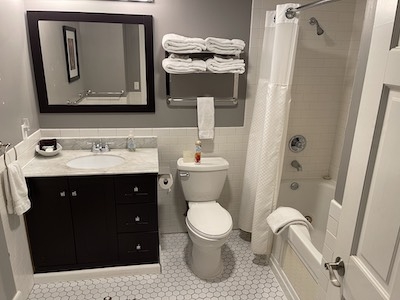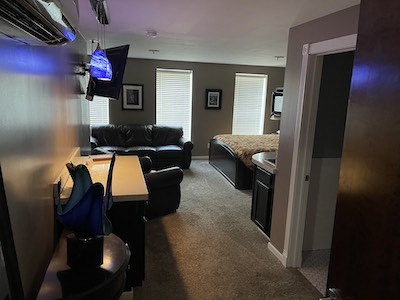 ROOM 3 - Luxury King Suite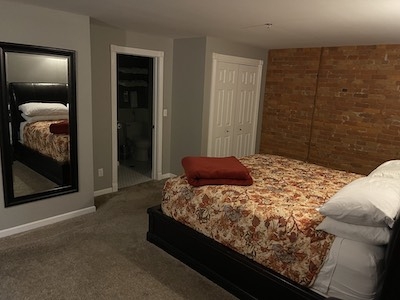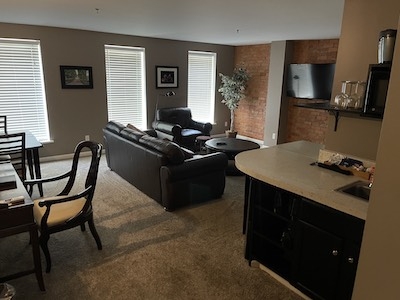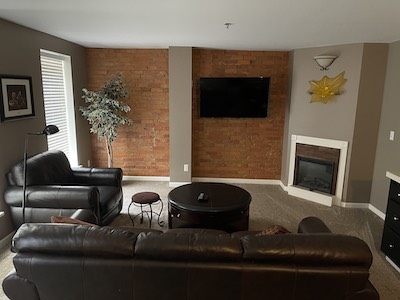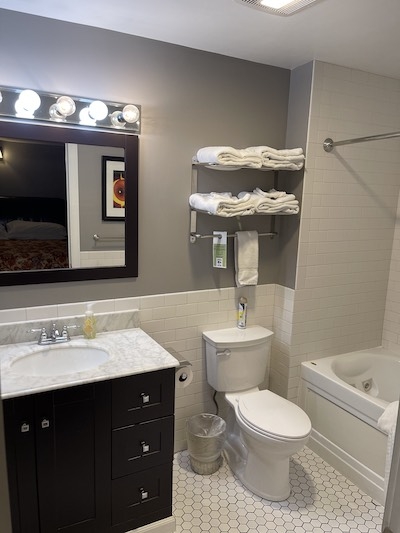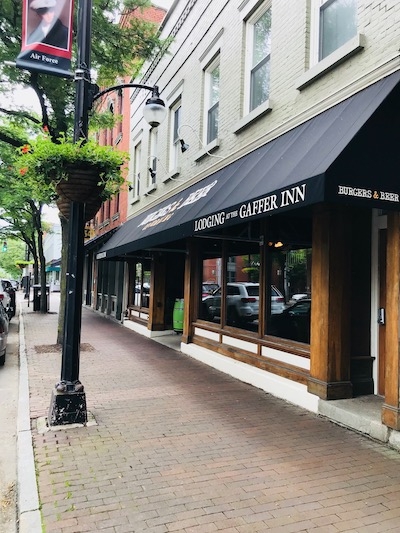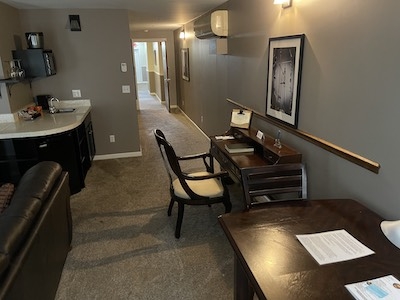 ROOM 4 - Double Queen Guestroom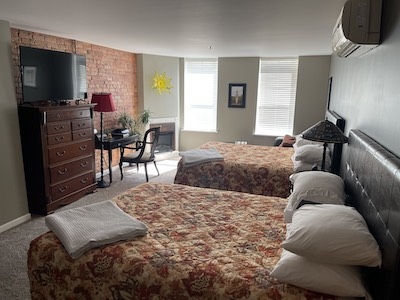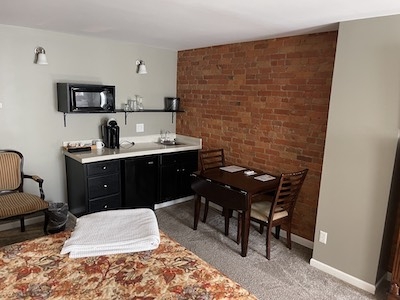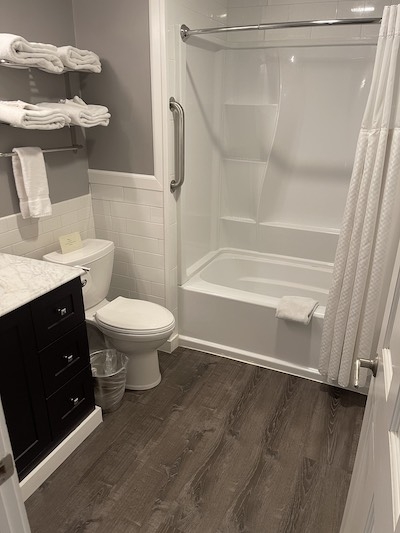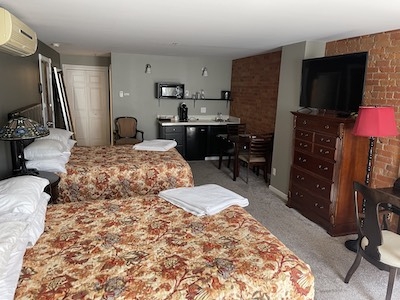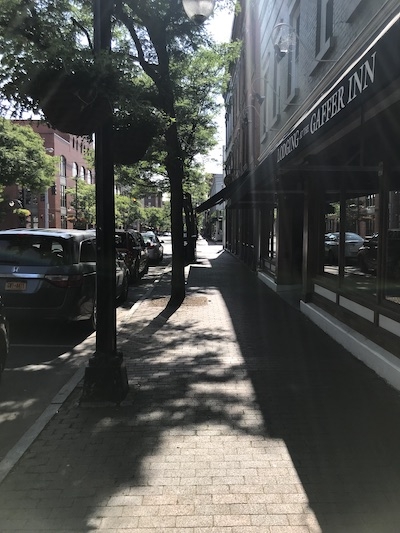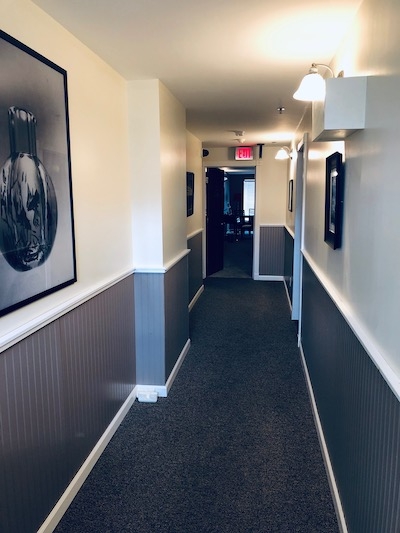 Video